Ch. Robel Alexander The Great Aquatass  JWC

Ch. Pouch Coves GoGo Girl

A Bit About Alex and GoGo

Alex is a 4 year old PWD that is well balanced, spirited in nature, sound, well muscled and has a superb temperament.  Aside from Alex being a fantastic show dog he is also a working dog.  Alex has earned his Junior Water Certificate and will continue to train in the water.  Liz, Alex's breeder, raves about his phenomenal temperament and willingness to work.  Alex is not just a beautiful PWD but he is full of heart and has begun working with special needs children.   

GoGo is a 2 year old PWD  that came to live with our family in July 2010.  She is a very easy dog to live with.  GoGo took to our 6 children quickly.  GoGo will be working with Clare to be her junior showmanship dog when she  begins her AKC Juniors journey.  GoGo gets along wonderful with all of our animals, enjoys walks and car rides and she thinks she may like to swim.  GoGo is a lovely representation of a PWD.  She has a fantastic temperament, nice bone and good substance for her size.  She has an adorable expression, nice movement and loves to show.

We believe that this breeding combination of GoGo and Alex will produce fantastic puppies.  We are excited about this breeding.  We have a litter out of Alex and our girl Slipper that is looking very promising.  You can visit Our PWDs page to see Knickers and Czar.

We thank Alex's owners, Liz Volz and Jack Bridwell for allowing us this opportunity.

View photos of Alex, his littermates and his offspring.  You will also enjoy photos of GoGo,her parents and littermates.

ALEX'S OFFSPRING

limited breeding

2009 National Best of Breed Winner - (Alex Daughter)

BISS Ch. Madrina Arya of Robel - Tilley

Finished Champions from Alex's 5-13-08 litter at Aviator PWDs

Ch. Aviators Really Rock'n The Boat - Piper

Ch. Aviators Rockabilly Cowgirl - Cowgirl

2009 National 2nd Place in Bred By Exhibitor (Alex Daughter)

Madrina Trianna of Robel JWC - Casi

ALEX'S LITTERMATES

living in Sweden at Aquatass PWDs

2008 National Winners Dog, 2008 World Winner, Award of Merit at Eukanuba Show,

Best of Breed Crufts 2009, and Best In Show Swedish National Specialty 2009.

Sw. and Am. Ch. Robel Charlemagne At Aquatass - Charlie

2008 National Best Bred By Exhibitor

Am. Ch. Robel Katharine The Great Aquatass - Kitty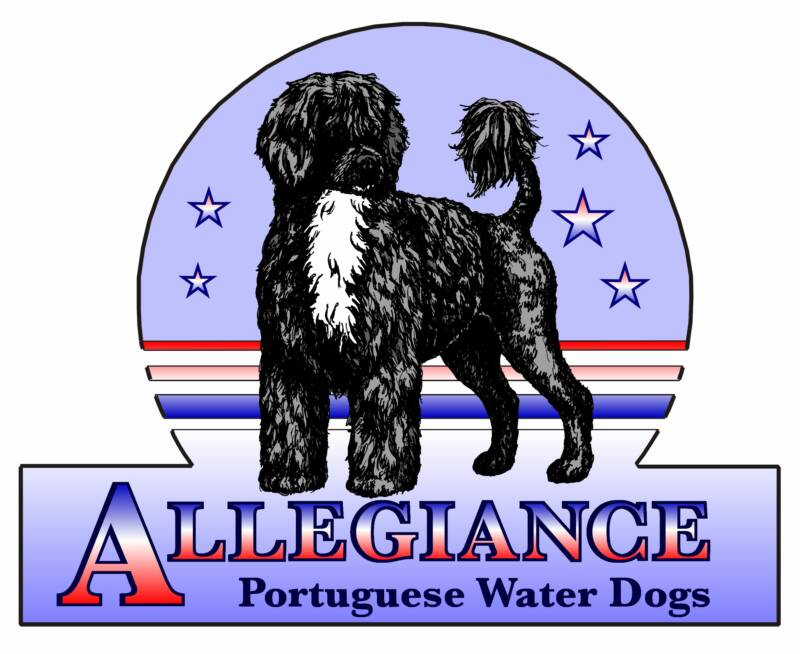 Multiple Group Placing Ch. Robel Alexander The Great Aquatass JWC

bred to:            Ch. Pouch Cove's GoGo Girl - GoGo

Alex's Stats and Health

Date Of Birth:  8/7/2005

Color: Black with white 

Coat Type:  Wavy

Trim: Retriever

Height:  21.5 inches

OFA Hips - Good

OFA Elbows - Normal

CERF - Current

JDCM:  1:1 Normal

GM1:  Normal

Optigen:  Normal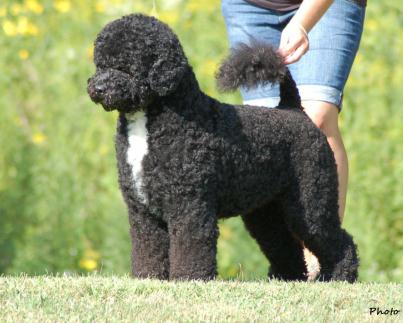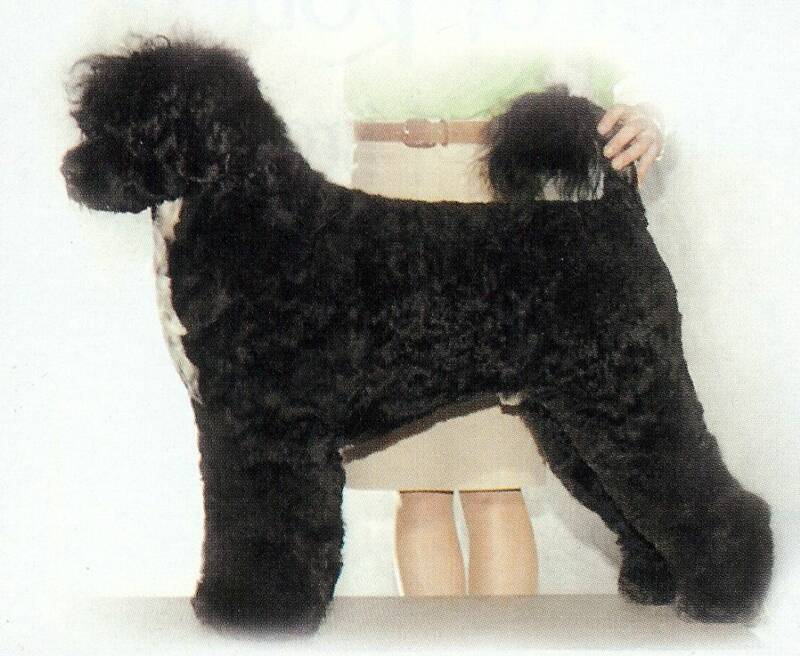 PUPPIES were born November 23, 2010

Alex bred to GoGo Puppies

Sire:  Ch. Robel Alexander The Great Aquatass JWC

Dam: CH. Pouch Cove's Schiaparelli

Sire:  Ch. Watermark Toby's Blackjack

Dam: Aquatass Ginza By Robel

Sire:  Ch. Pouch Cove's Patriot

Dam: Ch. Akire Supa Chunky Monkey

Dam: Cartmel Two If By Sea

Sire:  Ch. Robel Abraham of Highwood

Dam: Biley's Amanda Sjovild

Dam: Ch. Pouch Cove's GoGo Girl

Sire:  Ch. Cartmel Sea Master

Sire:  Eng. CH. Cartmel Sea Goblet

Alex and GoGo puppy pedigree



GoGo's ACCOMPLISHMENTS

(limited showing)

Award Of Merit Winner

2009 Portuguese Water Dog National Specialty

AKC Championship

1st Place 9-12 bitch class

2008 Portuguese Water Dog National Specialty

2nd Place 9-12 bitch Sweepstakes class

2008 Portuguese Water Dog National Specialty

GOGO'S LITTERMATE

CH. Pouch Cove's Isaac Mizrahi

#6 Portuguese Water Dog as of July 31, 2010

(Canine Chronicle)

Multiple Group Placement Winner

Applications and deposits are now being accepted on this exceptional breeding.

Please contact us prior to mailing an appication or deposit.